Lyrics
Southern Pride
It's been four bloody long years, that seem to never end
I'm haunted by the ghost's of so many good soldiers time and again
Been in this fight long enough sometimes you forget why you're here
But destiny reminds me I'm a Mason Line Dixie Musketeer
This will be the last battle on this hallowed ground
My boys are tired and worn but they are southern strong
This Dixie charge will be the death of many men
12 thousand march today, for love of country, and kin
From the Louisiana Bayou to Virginia Beach –
To the banks of Mississippi, To the Georgia peach –
To the tumble weeds in Texas, rolling hills of Tennessee –
Florida coast up to South Carolina, the boys from Sweet Home Alabama –
North Carolina and Arkansas you see, Southern pride runs deep
These days are long since gone, but in every history book you'll see
The stories of these men and boys who gave their life for me
So many lost, but not forgot their heart still beats in mine
So give me death, or give me life but you cant take away my southern pride
Story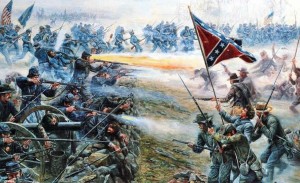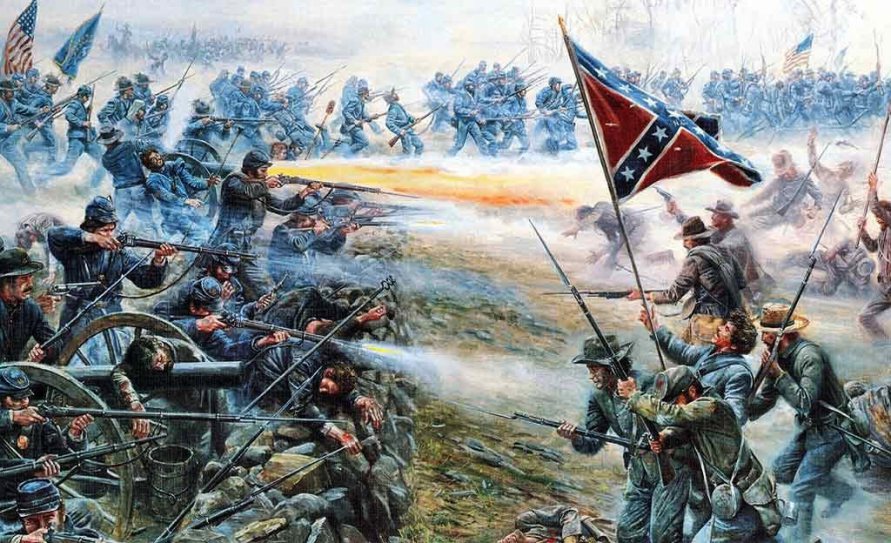 Lt. General James Longstreet opposed Robert E. Lee's plan on July 3rd. Longstreet believed an all-out infantry charge against the Union center on Cemetery Ridge a mistake.  He told Lee:
General, I have been a soldier all my life. I have been with soldiers engaged in fights by couples, by squads, companies, regiments, divisions, and armies, and should know, as well as any one, what soldiers can do. It is my opinion that no fifteen thousand men ever arrayed for battle can take that position.
Lee disagreed and ordered it done.  At around 2:30 pm on July 3rd, over 12,000 of the South's finest men stepped out from the trees along Seminary Ridge.  The Confederate line would stretched over a mile. The Pickett-Pettigrew-Trimble assault (more popularly, Pickett's Charge) momentarily pierced the Union line but was driven back with severe casualties.
With losses of over 50%, the Army of Northern Virginia paid a high price that day.  In defeat, Lee demonstrated both the quality of his own leadership and the depth of his character when he told the retreating soldiers, "It's all my fault." 
Pickett's Charge eventually became an iconic symbol for Southern manhood and bravery.  Soldiers from all 11 Confederate states (Alabama, Arkansas, Florida, Georgia, Louisiana, Mississippi, North Carolina, South Carolina, Tennessee, Texas, Virginia) fought at Gettysburg.   Although Gettysburg proved to be the High Water Mark of the Confederacy, sealing the eventual defeat of the South, the battle and Pickett's Charge in particular became a source of Southern Pride.  
As this song captures, Pickett's Charge certainly illustrated the courage of the Southern men and boys who gave their lives for each other and for the cause they believed in.  We can honor their courage without ignoring the deep injustice present in our country at the time–and the failure of many in the North and South to correct it.  
As we apply lessons of leadership from Gettysburg, we should work to develop both the courageous and corrective aspects of our leadership.  Either aspect can be inspirational to others; but together they form an unbeatable combination.  
In the opening words of his 1948 novel Intruder in the Dust, William Faulkner captured the sense of this Southern memory of and pride in its gallant charge at Gettysburg. 
For every Southern boy fourteen years old, not once but whenever he wants it, there is the instant when it's still not yet two o'clock on that July afternoon in 1863, the brigades are in position behind the rail fence, the guns are laid and ready in the woods and the furled flags are already loosened to break out and Pickett himself with his long oiled ringlets and his hat in one hand probably and his sword in the other looking up the hill waiting for Longstreet to give the word and it's all in the balance, it hasn't happened yet, it hasn't even begun yet, it not only hasn't begun yet but there is still time for it not to begin against that position and those circumstances which made more men than Garnett and Kemper and Armistead and Wilcox look grave yet it's going to begin, we all know that, we have come too far with too much at stake and that moment doesn't need even a fourteen-year-old boy to think This time. Maybe this time with all this much to lose than all this much to gain: Pennsylvania, Maryland, the world, the golden dome of Washington itself to crown with desperate and unbelievable victory the desperate gamble, the cast made . . .years ago.— William Faulkner