Lyrics
One Day
He was born in Monmouth Maine, in the year of 1839
Fled to sea when he was ten, just a little tike
Returned to fight in 61, in the 2nd infantry
Bravely fought in fields of war, saw more than any man should see
Now he just wanted to go home,  he'd served his duty well,
Next thing he knew he was marching toward a bloody hell
Disgruntled yet curious about these boys of the 20th Maine
And this Chamberlain, a good man he'd heard them say
It was …One day, on one hill
In the month of May
One man, with one flag
Told me let those colors wave
One fight, and one charge
Down a mountain side
Two heroes, with one heart
Forever changes lives
I was a better man, standing next to him
That I can't deny
Andrew Tozier a hero but he never felt that way
A simple sinner, and a somewhat complicated saint.
His courage was mustered, when he truly believed
This Joshua Lawrence Chamberlain would die for him, you see
This one man saw others as they could be, and not as they were
A loyal friend, fearless soldier, a bright and fallen star for sure
That's what you'd get with a Tozier sometimes
He ran to the beat of his own drum and lost his tempo and his rhyme
It was …One day, on one hill
In the month of July
One man, with one flag
You hold those colors high
One fight, and one charge
Down a mountain side
Two heroes, with one heart
Forever changes lives
I was a better man, standing next to him
That I can't deny
You see we all have trophies and we all wear chains
We all like Andrew Tozier have hero and thief coursing through our veins
But the greatest gift one can ever receive
Is knowing that someone … truly believes in me
It was …One day, on one hill
In the month of July
One man, with one flag
I'd hold those colors high
One fight, and one charge
Down a mountain side
Two heroes, with one heart
Forever changed their lives
I was a better man, standing next to him
That I can't deny
But the greatest gift one can ever receive
Is knowing that someone … truly believes in me
— Andrew Landers
Story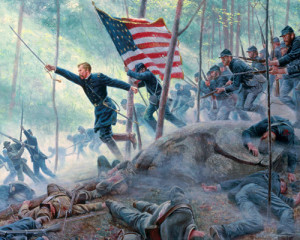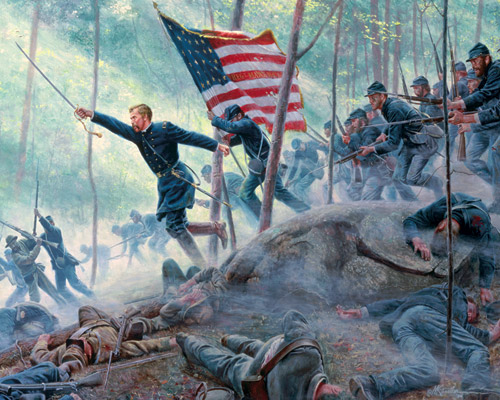 Sergeant Andrew Tozier was awarded the Medal of Honor for heroism in the battle at Gettysburg, Pennsylvania, July 1 – 3, 1863—surprising in that he had been arrested as a deserter  less than 2 months earlier, May of '63.
One of the 120 deserters of the 2nd Maine Infantry, he refused to fight for the Union, having paid his dues in two long years of fighting.  He and his fellow deserters assumed they had signed 2-year papers, but had actually agreed to a 3-year enlistment.
Assigned as prisoners to the 20th Maine, Tozier ended up fighting alongside the 20th at Gettysburg.  In an effort to "lead in" the 2nd Maine deserters into the fighting community of the 20th Maine, the commander of the 20th Maine, Joshua Lawrence Chamberlain, made Sergeant Andrew Tozier the color bearer for the 20th Maine—an honored position in the regiment.
On July 2nd, the former deserter and now color-bearer for the 20th Maine was carrying the 20th flag on Little Round Top bearing the brunt of repeated rebel efforts to break the extreme left of the Union line.
Later his commander, Joshua Chamberlain recalled Tozier's courage at the critical moment in those battles:
"When our whole center was for a moment broken and the enemy seemed about to overpower us, I saw…Sergeant Tozier standing alone at his advanced post…the color staff rested on the ground and supported in the hollow of his shoulder, while with a musket and cartridge box he had picked up at his feet, he was defending his color, presenting a figure which seemed to have paralyzed the enemy in front of him, who might otherwise have captured the color."
A short time later the 20th Maine, ammunition nearly gone, rallied around Sergeant Tozier and his flag to make their daring and now-famous bayonet charge.  Chamberlain helped secure the Medal of Honor for Tozier's work that day at Gettysburg.
Andrew Tozier survived the Civil War, returning to Maine weighed down by, what we would call today,  "post-traumatic stress."   With a shoulder injury, he was unable to find any manual labor; his reading and writing skills were so poor he was unfit for other jobs.
A cousin convinced him to join in the theft of significant goods.  Promptly captured, Tozier was finally sentenced to 5 years in state prison. The governor of Maine heard of his plight,  pardoned him, and brought him to the safety of his own home, teaching him to read and write, even employing him for a time.
That governor was no other than his commander at Gettysburg, Joshua Lawrence Chamberlain.
One commentator noted that "Andrew J. Tozier was always a better man, standing next to Chamberlain."