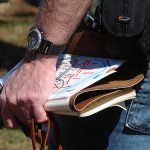 Just returned from the Willow Creek Leadership Summit and was struck again by the power of personal and leadership development.  Bill Hybels mentioned several times the truths that leadership matters and that:
"Everyone wins when a leader gets better."
This is certainly true on the physical battlefield.  But it is equally true in every endeavor.  As a leader gets better, everything and everyone benefits.
Over the last 15 years, Laurie and I have seen it over and over again at Gettysburg. Get leaders to invest in their own development and in the development of the leaders they lead and good things happen.  Because we believe that, we're committed to continue offering a unique learning experience at our "If Properly Led" conferences.  We hope you'll consider joining us or investing in the development of those you lead by sending them to join us Oct 3-7, 2012 in Gettysburg.
Here's one recent review:
Over more than 40 years of ministry, I've had opportunity to attend many professional leadership conferences. NONE was as valuable as your "If Properly Led" conference. I love history and was exceptionally charged to have my sons with me, but way beyond that was the pure value, intensity and transferable nature of everything we did together.  You have crafted a truly great experience. Never quit.
— Stu Weber, Pastor and Author of Tender Warrior, Infinite Impact and others